Vintage clothes are indeed old, secondhand, and passed on, yet there is evidently a current craze about going vintage these days. It's as though clothes from past eras have never gone out of fashion.
Vintage clothes are unique. Most items from the previous decades were produced in small quantities, if not custom made. If you wear a vintage piece, therefore, hardly will you bump into someone who is wearing the same item as you do. Though some contemporary and high-end manufacturers reproduce vintage clothes, they cannot completely imitate a vintage piece. They can probably copy the silhouette, but not the fabrics, the extraordinarily shaped beads, the interior seams, handmade finishing, and other elements. A vintage clothing piece, in all respects, remains one-of-a-kind.
Vintage clothes were made from the finest and robust materials. Synthetic materials were not available until in the 1960's, so people used natural materials, such as silk and wool, which in turn promise quality in each finished item. Some of the materials used before, in fact, are not anymore available today, or if they are, would cost handsome amounts.
Vintage clothes were created with better sewing and detailing techniques. Most of the pieces before were actually handmade—from sewing to embellishing. Unlike the present-day clothing pieces, vintage items were designed to stand the test of time since people before did not buy clothes as frequent as we do today and that that the clothes were supposed to be passed on from one family member to another.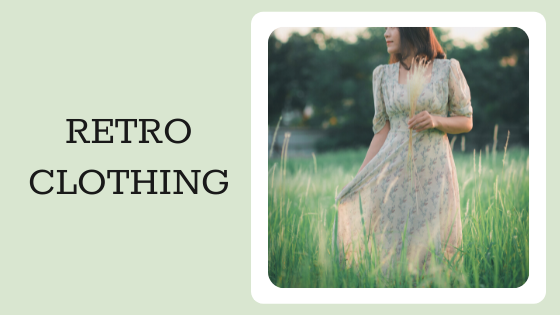 Vintage clothes are highly stylish. From the silhouettes to the handmade lace and down to the buttons, vintage pieces were obviously well though of. This is very unlike the mass produced clothing pieces we have today, which are too common and sometimes lopsidedly done. The detailed embroidery, the ladylike designs, and the overall beauty of vintage clothing can make any wearer a standout in a sea of commonly dressed individuals. Whether it is used as a main piece or an accent, there's no mistake in wearing a vintage item.
Vintage clothes are relatively cheap. They usually cost a fraction of the price of new clothing items, but can lend your wardrobe a classic and sophisticated look. For less amount than what you are normally willing to spend, you get the best out of fashion. If, however, the vintage item is a dead stock, meaning it has never been worn, it is reasonably sold at a higher price. The best place to buy retro clothes is online from reputable shops, such as the EmmK retro.
Vintage clothes open opportunities for you to protect the environment. You may not realize it, but wearing vintage clothes is a way of recycling. When you wear and buy vintage clothing, you are not contributing to the environmental perils of making new clothes. This means you are helping curb the emission of air, land, and water toxins from factories; save energy; and decrease the use of natural resources for making clothes.
Wearing vintage clothes, therefore, is not only satiating your fashion sense, but is also a whole new way of contributing something for the upkeep of the environment.