As the land of myths, legends, and breathtaking landscapes, Scotland offers countless adventures for the intrepid traveler. From the rugged beauty of the Highlands to the enchanting charm of its cities, this ancient land promises unforgettable experiences at every turn.
Hiking the West Highland Way
Traversing 96 miles between Milngavie and Fort William, the West Highland Way is Scotland's most iconic long-distance hiking trail. The journey takes you through a diverse array of landscapes, including serene lochs, dense forests, and towering mountains. Along the way, you'll be treated to stunning views of Ben Nevis, Britain's highest peak, and the chance to spot native wildlife like red deer and golden eagles.
Scaling the Cuillin Ridge on the Isle of Skye
If adrenaline-pumping rock climbing is your idea of a great Scottish adventure, look no further than the Cuillin Ridge. These jagged peaks, known for their dramatic beauty, provide a challenging playground for experienced climbers. With its mix of scrambling, climbing, and breathtaking views, the Cuillin Ridge is an experience you won't forget.
Sea Kayaking Around the Scottish Isles
For those who prefer water-based adventures, sea kayaking around Scotland's rugged coastline and islands is an unforgettable experience. Paddle through crystal-clear waters, explore hidden coves, and observe a rich marine life that includes seals, dolphins, and even the occasional whale. The Isle of Skye and the Outer Hebrides are particularly popular destinations for kayaking enthusiasts.
Mountain Biking in the Tweed Valley
The Tweed Valley, located in the Scottish Borders, is a haven for mountain bikers. Boasting a network of world-class trails, it caters to all levels of expertise. From adrenaline-fueled downhill tracks to leisurely forest rides, the Tweed Valley guarantees a thrilling experience on two wheels.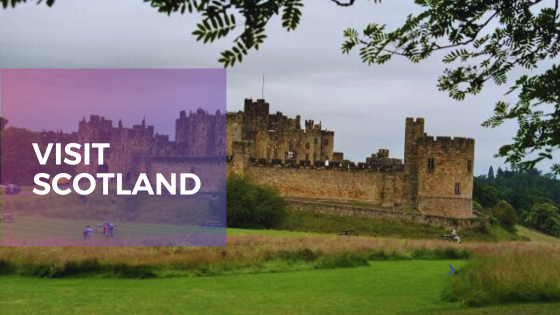 Ghost Hunting in Edinburgh
For a different kind of adventure, dive into Scotland's spooky side with a ghost hunt in Edinburgh. The city's rich history is filled with tales of ghosts, witches, and other supernatural beings. Explore the spine-chilling underground vaults and haunted graveyards on a guided tour, and immerse yourself in the eerie atmosphere that makes Edinburgh one of the most haunted cities in the world.
Stay In The Highlands
The Scottish Highlands offer some of the most spectacular scenery in the world. From rugged mountainscapes to mist-shrouded lochs, this region is an adventurer's dream come true. Soak up the beautiful scenery at Loch Ness, explore the ancient castles of Skye, and take a dip in one of Scotland's many natural hot springs.
If you're looking for a place to relax with your family or friends, you will find some of the most beautiful large accommodation Scotland has to offer in the Highlands, including luxurious lodges and farmhouses.
Conclusion
No matter what kind of adventure you seek, Scotland's diverse landscapes and captivating history will undoubtedly leave you with memories that last a lifetime. So pack your bags, lace up your boots, and get ready for an unforgettable Scottish escapade.