Choosing hamster names is not quite as easy as it sounds. You have to know your hamster first and then choose a name that suits the cute little animal. However, there are certain steps you have to take before you know your little pet. Here are some of the things that can help you to choose the best name for your hamster and some suggestions of cute names for the little rodents.
Once you buy a hamster, you have to figure out how friendly the little animal is. It may not be very friendly with you from the start because it does not know you. Hamster owners often figure out what the best name for their hamster is once they take it in their hands and let it smell them and explore them. Just caress the little hamster and then you will understand why hamster names are usually diminutives and love-related terms. You can call the hamster Tickly or Bitsy if it bites on your hand too much.
Maybe your little hamster is sleepy when you buy it or when it first comes into your hand. Then, the right name for it is definitely Sleepy. It may not like being held in the hand and then you should call it Squeaky because it will definitely make some squeaky sounds. This is how hamsters do when they feel threatened. You might also know that hamsters are the most active at night. That is when they usually run on their hamster wheels and so on, so you might want to call the little animal Speedy if it runs all night long.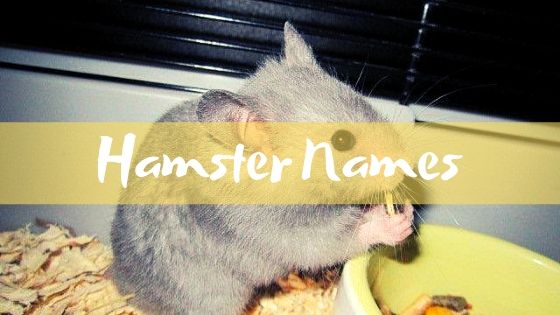 Hamster names and their meaning
Naming a hamster is usually not very difficult because all you have to do is to think about cute names for cute animals. They do not have to be too crazy or too funny. They might just reflect the reality and they will be just as cute and suitable for the charming rodents. Here are some suggestions in terms of hamster names in case you do not have the necessary inspiration when you buy the hamster from the pet shop. Of course, there is no need to stop at the ordinary human names like Amber, Charlie, Ella or Gus. Here are some more creative options:
Bandit could be a hamster that is naughty and bites your finger or makes a lot of mess in the cage.
Cosmo could be a hamster with very big eyes and who sleeps all day long and is with the head in the clouds most of the time.
Cupid could be a rodent which is very affectionate and likes being held in the hand, licks you instead of biting you and responds to your calling. The same goes for Caramel.
A hamster which acts brave and makes a lot of mess could be Cowboy.
Last but not least, a rodent which eats too much or won't let go of your hand could be called Gypsy or Crunchy.
Choosing hamster names is not at all an easy job, but it is a lot of fun and it is very important that you choose a name that fits the personality of the little rodent with wet and mesmerized eyes. Anyway, there is no need to worry because you can visit various websites like Petsium and choose the best name for your hamster.